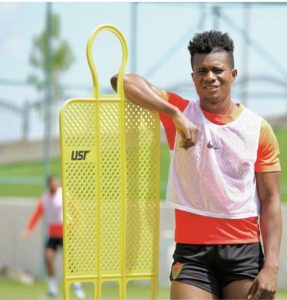 Mohammed Kamara
PRO SOCCER PLAYER
Kamara is a Liberian native. He was born and raised in Sinkor, Monrovia, where his love for soccer began. At a young age, Mohammed played for various local teams in his area. His resilience and commitment to the game led Mohammed to the United states to attend Tyler Junior college in 2016.
The purpose of his move to the U.S was to obtain a higher education and play college soccer, which was his dream. During Kamara's two years at Tyler, his performance both on the field and in the classroom was superb. Kamara scored 70 goals with 10 assists in 44 games. He was also named as the NJCAA player of the year in 2017 for breaking both the school and NJCAA record with 48 goals.
In 2018, Mohammed transferred to UCLA to further his education and soccer career. While he was at UCLA, Kamara made 14 appearances and scored five goals. Kamara was one of the best players at UCLA. After college, Kamara went on to pursue his childhood dream to become a professional soccer player.
To bring that dream to reality, Kamara moved to Europe and signed for Bundesliga team SC Paderborn and after a few months with SC Paderborn II, Kamara moved back to the U.S and signed for USL Championship team LA Galaxy. After a year at LA Galaxy, Kamara moved to Turkey in 2020 to play for Menemenspor. Mohammed's enthusiasm for education and his love for soccer have a great impact on our youth here at NationOne Academy. A lot of our students are inspired by his achievements and would like to obtain his passion for school and soccer.
---
MAURICE NDOUR
PRO BASKETBALL PLAYER
Ndour, a Senegalese native, was born in Sindia and raised in M'Bour where he played soccer and basketball as a youth. During his teenage years, he was noticed playing in a local basketball tournament and was asked if he'd like to play high school basketball in Japan. For his sophomore, junior and senior years, Ndour attended Okayama Gakugeikan High School where he was an all-Okayama MVP honoree and all- star selection in 2009 and 2010.
After graduating from Okayama Gakugeikan in 2011, Ndour moved to the United States where he enrolled at Monroe College where he graduated with his Associate degree in Information technology. In 2013, Ndour transferred to Ohio University and played 2 years with the Bobcats. After graduating with his Bachelor degree in Business Communication and Linguistics, he travelled around the world playing basketball. Maurice Ndour now reside in New York City and plays for the Knicks. Maurice determination and journey is an inspiration to our youth.